Various materials used in the manufacturing of most real lifelike sex dolls from shenzhen china sex dolls suppliers factory
Huizhou Kfdolls Co., Ltd is a professional real lifelike silicone sex dolls manufacturer from china.
KFDOLLS is a brand of Huizhou Shuntai Toys Co., Ltd. And KFDOLLS is professional high end adult sex doll manufacturer from china.The real dolls are very popular all over the world, including silicone love doll and TPE dolls. A realistic sex doll is like a real woman, with her skin, her eyes, her head, her vagina and other parts extremely close to the human body.
Today we will talking about various materials used in the manufacture of sex dolls from china sex dolls suppliers.
For some years the manufacture of real sex dolls has become popular in all corners of the world, but not in all cases manufacturers are able to use the same material for the creation of all their products, for this reason we can find a great variety of textures, shapes and sizes of this popular sex toy.
Initially, the lifelike sex dolls were made of cloth.
Initially, what we know as lifelike sex dolls were simply a lot of hand-sewn fabric, trying to simulate the appearance of a female person, however, if we think about this, maybe we can realize that no fabric could to be able to simulate the human anatomy, this without counting on the sensation that the experience of a sexual encounter with a toy of this material could offer.
Although these dolls were made of cloth, they fulfilled their initial purpose, and also managed to bring their popularity to all the continents where in turn several manufacturers emerged who set out to make the necessary improvements to give a little more realism to the lifelike sex dolls and thus be able to improve the experiences of its users.
The next version took vinyl as its main material.
One of the first improvements could be seen in the versions of inflatable dolls, who at the time of manufacture of this prototype, represented the most evolved real sex dolls in the market.
The inflatable dolls are mostly made of welded vinyl, material that was much more similar to a human than a lot of cloth, yet these dolls had not reached their full potential. They were moderately acceptable, but their main defect was that welded vinyl usually exploded at the seams, which completely compromised the use of the doll, in fact, after a few sessions the doll became completely useless, so it was necessary discard it and get a new one, and although this was very good for its manufacturers, users were not happy.
There are also real sex dolls composed of heavy latex.
These reasons led to the manufacturers being able to experiment with other materials, it was when the sex dolls lifelike that were made with latex emerged, they were much heavier than their previous versions, and they looked much more real since they took much more detail like the molding of his well-defined limbs, hands, feet and fingers, and to add a more subtle touch, they filled some parts of his body with bags of water. They also used wigs and placed other details to make them more attractive.
Little by little the creative industry of these sex toys was evolving, but there were manufacturers who went much further in their task of making their work and level of detail more and more realistic, they discovered that silicone is a very good material to simulate a human body, and they took great advantage of this, therefore it can be considered that the best real sex dolls are made of this material.
For more about lifelike silicone sex dolls,you can pay a visit to kfdolls website at http://www.kfdolls.com/sex-dolls/
About KFDOLLS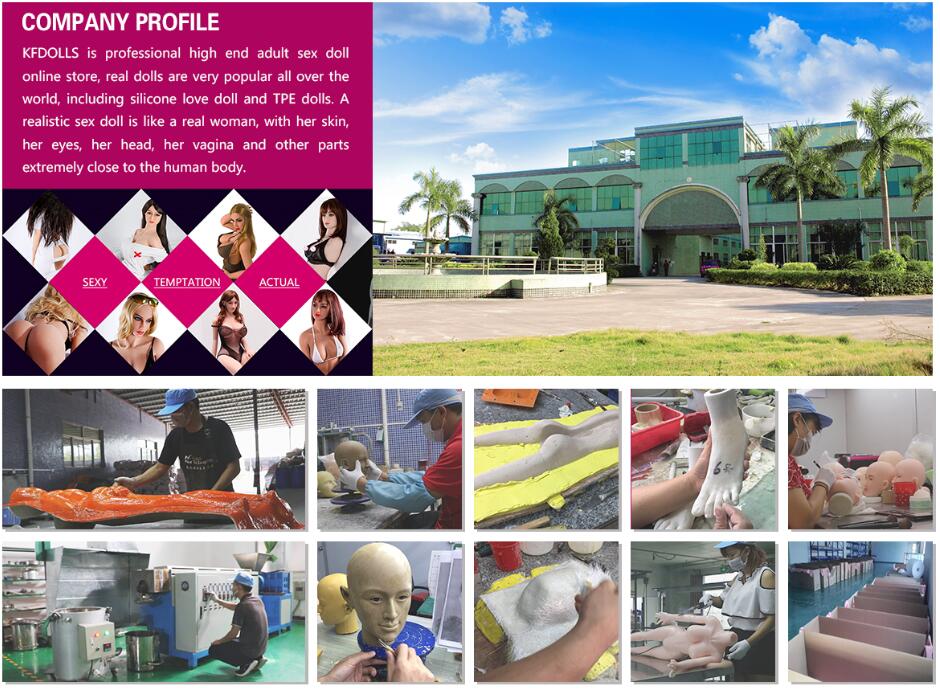 Welcome to the KFDOLLS professional high end adult sex doll online store, real dolls are very popular all over the world, including silicone love doll and TPE sex dolls. A realistic sex doll is like a real woman, with her skin, her eyes, her head, her vagina and other parts extremely close to the human body.
If you wanna to buy luxurious lifelike sex dolls, you may need to know more about the relevant information. According to the classification of the label, you will be able to quickly choose the doll of love which you need. For example, BBW style, Japanese style, Blonde style, Black skin style, Milf style, Big ass style, etc. Surreal sexy realistic sex dolls have the same look as real women: elegant hairstyles, realistic faces, real size, very light, body color and soft texture, glamorous breasts and juicy tight ass. Above all, these passionate female.
For Inquiry,Please contact:
Company: KFDOLLS
Contact:David Liu
Tel:86-752-6236969
Mobile:+86-18003038323
Email: [email protected]
---
Love Dolls Factory
Related Posts